Basic data:
Apartments Andrea are situated in the eastern part of Orebic, about 600 m from the port (town center) - but they're still quite close to different facilities you may find useful during your holidays. House is in the peaceful enviroment and not near any particular source of noise which could interfere with your rest.
Sea is about 300 m from the house, there is a pebble beach there (closest one to the house) and beautiful sandy beach (on the picture) is about 400 m away.

Some important objects:
Bus station

600 m

Port

600 m

Ambulance

500 m

Nearest market

100 m

Piazza

400 m

Pizzeria

300 m

Nearest restaurant

100 m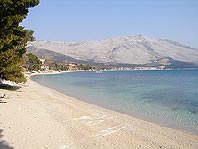 Nearby sandy beach - Trstenica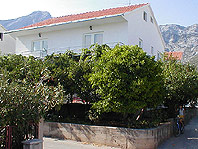 house
House is accessibile by car. On private property there is parking space for your car. There is a barbique available for house guests.


Sport facilities:
Soccer court

150 m

Basketball court

500 m

Windsurfing center

2000 m

Tennis court

150 m

Diving centre

2000 m
Accomodation units
Apartment for 2+3 persons

On the first floor of the house. 41 square meters of space. With separate entrance.
Consist of kitchen with dining room; bedroom; bathroom; terrace.
prices from 6 to 12 EUR per person per day
cat: ***
more detailed
Apartment for 2+1 persons

On the first floor of the house. 25 square meters of space. With separate entrance.
It's a studio apartment - big room with separate space for kitchen and beds - it also has bathroom and big terrace.
prices from 7 to 11 EUR per person per day
cat: ***
more detailed