Dajak apartments - Orebic
Apartment description
It's not exactly hotel, or villa, just little family trip to tourist enterprise. That's why we don't insist on quantity but on quality of accommodation.
There are two fully equipped apartments available for rent, both with separate entrance and similar look. On the picture on the left you can see part of semi - detached house that apartments are situated in. One of them is situated on the ground floor and the other one on the first floor, with the stairs on the back of the house.Both apartments consist of two bedrooms, living room with kitchen and dining space, and complete bathroom. As you can see on the picture both apartments also have terraces, one on the ground floor have almost 50 square meters - great for hot summer days. Speaking of the hot, although on the house, sun shine, it is still all day pretty nice climate inside, even without air-conditioners.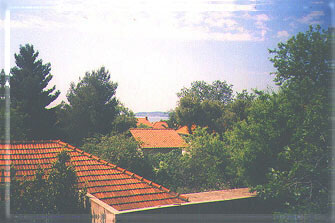 House itself is on so-called ideal position, between finest Orebić beach and center of town with stores, restaurants, bars and so on. Exact distance from house to any of mentioned is about 150 m or 2 minute walk.
Yet, it's located in peaceful surrounding among other family houses and surrounded by garden with parking space and space for you, your kids or pets. Garden is surrounded by walls so you can feel as you are not situated in center of the Orebić.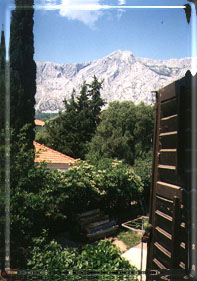 On the upper picture e you can see view from southern window of upper apartments. On the left is view to north, joining together Orebić beauty of hill side and sea.
Let's get back to the apartments themselves. Each is equipped by fridge, stove with owen and scullion in the kitchen. Beside 4 beds in bedrooms each have additional spare bed in the living room. So, both are suitable for up to 5 persons. Bedrooms are double, and each apartment have total of 50 square meters.
Of course, there is some additional goodies. Place is ideal for your dog or cat and they are of course ALLOWED, even welcome - my family loves animals. You can also taste Mediteran in nature products my family produces for generations in the Peljesac countryside. Best of all are famous Peljesac vine and brandy.Your host will probably be me, or one of my family members. We youngsters can handle some English, Italian and French, but elders usually compensate their lack of languages knowledge with famous southern hospitality. You can see more of what you can expect here on my new - ACTIVITIES page
Want more reasons... I can't remember them at the moment, it's almost midnight. I think it's more than enough to proceed to pricing and reservation page ;) . See you there.