Location:


Apartments Zaporat are situated on the seafront, on the edge of the village port and long pebble beach.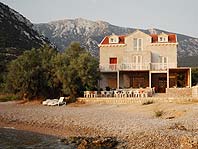 a view of house from beach

Duba is small traditional fishing village on the north-east coast of Peljesac, settled beneath St. Elliah hill - the highest peak on Peljesac.
It's surrounded by several beautiful beaches, often visited by people who spend their holidays in other villages on Peljesac coast - often traveling up to 100 km a day just to spend afternoon in this beautiful region.
If you wish to spend your holidays surrounded by stunning landscape, crystal clean sea, beautiful beaches, enjoying your holidays in peace and comfort - take a close look to what we have to offer in Zaporat apartments - Duba, Peljesac peninsula.
Some important objects:
Nearest market (Trpanj)

10 km

Piazza (Trpanj)

10 km

Ambulance (Trpanj)

10 km

Bus station (Trpanj)

10 km

Port (Trpanj)

10 km

Airport (Dubrovnik)

147 km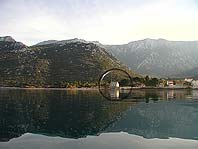 House location

House guests can get refreshment and ice cream in the little bistro on the ground floor of the house - mostly serving beach visitors.
Our offer: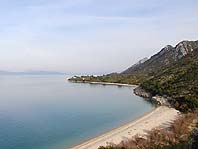 View of Duba & nearby Jezero (lake) beach


We offer you accommodation in five comfortable apartments, newly equipped and with beautiful sea view.
House is accessibile by car. There is parking space for the car as well. Barbique is available for house guests.



Zaporat apartments - Duba, Peljesac - accomodation units:
Apartment #1 for 2 to 4 persons

On the first floor of the house. 30 square meters of space. With separate entrance. Sea view.
Consist of kitchen with dining room; bedroom; bathroom; terrace.
prices on request
cat: ***
apartment details
Apartment #2 for 2 persons

On the first floor of the house. 24 square meters of space. With separate entrance. Sea view.
Consist of living area with sleeping space, dining space and kitchen corner; bathroom; terrace.
prices on request
cat: ***
apartment details
Apartment #3 for 2 to 4 persons

On the first floor of the house. 30 square meters of space. With separate entrance. Sea view.
Consist of kitchen with dining room; bedroom; bathroom; terrace.
prices on request
cat: ***
apartment details
Apartment #4 for 2 to 4 persons

On the 2nd floor of the house. 30 square meters of space. With separate entrance. Sea view.
Consist of kitchen with dining room; bedroom; bathroom; terrace.
prices on request
cat: ***
apartment details
Apartment #5 for 4 to 5 persons

On the 2nd floor of the house. 45 square meters of space. With separate entrance. Sea view.
Consists of kitchen/dining room; two bedrooms; bathroom; terrace.
prices on request
cat: ***
apartment details